Production capacity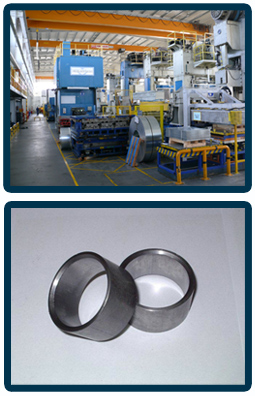 We offer services in the scope of progressive stamping on presses with tonnage from 150 to 500 ton, transfer and manual stamping on power presses and hydraulic presses with tonnage from 40 to 500 ton as well as assembling operations performed on presses and specialized devices.
We have our own material preparation line.
We have also such machines as automatic lathes and the automatic machine for cutting and finishing pipe ends.
We closely cooperate with the paint shop adjacent to our facility. Thanks to this we can supply parts painted in various colours or painted with anti- fingerprint paint as well as we can make overprints.
We have experience in manufacturing parts made of black steel, zinc coated steel, stainless steel and pre-painted steel. We make structural parts including parts threaded on the press and external parts with attractive appearance. We can make stamping parts with size up to 1500 mm.
Selected products showing our production capacity are presented on the pictures below.

See our offer.
Contact us:
Paks'D sp. z o.o.
Ul. Kielecka 30
42-470 Siewierz
Phone: + 48 (32) 674 31 51
Contact person:
Tomasz Sikora
Phone: + 48 (32) 674
e-mail: tsikora@paksd-poręba.com.pl